Glary Utilities Free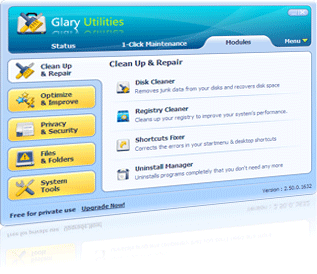 Glary Utilities adalah utilities gratis yang berfungsi untuk memperbaiki, mempercepat, mempertahankan dan melindungi PC Anda. Cara kerjanya yaitu dengan membersihkan file-file sistem sampah, serta entri registri yang tidak sah dan History Browser atau jejak internet kita. Kalian dapat mengatur dan menghapus add-ons yang ada di web browser kalian, menganalisa penggunaan disk dan menemukan file yang terduplikat. Kalian juga bisa mengenkripsi file kalian dari akses yang tidak sah dalam penggunaannya. Fitur lain dari Glary Utilities ini adalah terdapat pilihan untuk mengoptimalkan memori
, mengelola program-program yang dimulai pada Windows Startup atau program yang berjalan pada saat pc anda baru dihidupkan dan meng-Uninstall Software dengan bersih.
Glary Utilities ini dirancang untuk user pemula dan profesional karena UserInterfacenya yang begitu ramah serta panduannya yang jelas dan rinci sehingga mudah sekali untuk dipahami. Untuk pemula, semua pekerjaan dapat dilakukan hanya dengan 1 atau 2 klik saja, sedangkan untuk profesional, terdapat pilihan yang melimpah yang tersedia didalamnya.
Bagi kalian yang memiliki permasalahan Boot Windows yang begitu lambat, pilihan terhadap software Glary Utilities ini adalah pilihan yang paling tepat dan yang paling bermanfaat karena hasilnya akan langsung terlihat drastis meningkatkan kinerja komputer kalian. Selain itu, Glary Utilities juga dapat memulihkan file yang telah dihapus, mengenkripsi file untuk perlindungan privasi dan membagi atau menggabungkan file besar menjadi lebih kecil sehingga transfer file menjadi lebih cepat. Jutaan pengguna telah memilih Glary Utilities ini dan membuat pekerjaan Anda menjadi lebih efisien.
Download :
Disini
License : Freeware
Size : 7 MB
Os : Windows 2000/XP/Vista/7/8
Glary Utilities is a free utilities that serve to fix, speed up, maintain and protect your PC. The way it works is to clean up the system junk files, as well as invalid registry entries and Internet traces History Browser or us. You can manage and delete add-ons that exist in your web browser, analyze disk space usage and find terduplikat file. You can also encrypt your files from unauthorized access in its use. Other features of Glary Utilities is an option to optimize memory, manage the programs that start at Windows startup or a program running on your PC when first turned on and clicking Uninstall Software with clean-.
Glary Utilities is designed for novice and professional users to UserInterface so friendly as well as a clear and detailed guidance so easy to understand. For novice, all work can be done only by 1 or 2 clicks, while for professionals, abundant options are available therein.
For those of you who have problems Boot Windows is so slow, the choice of software Glary Utilities is a selection of the most appropriate and most beneficial as the results are immediately visible drastically improve the performance of your computer. Furthermore, Glary Utilities also can recover deleted files, encrypt files for privacy protection or merge and split large files into smaller ones so that the file transfer is faster. Millions of users have chosen Glary Utilities makes your work more efficient.
Download :
Here
License : Freeware
Size : 7 MB
Os : Windows 2000/XP/Vista/7/8